Day 01 → Your favorite song
Day 02 → Your favorite movie
Day 03 → Your favorite television programme
Day 04 → Your favorite book
Day 05 → Your favorite quote
Day 06 → Whatever tickles your fancy
Day 07 → A photo that makes you happy
Day 08 → A photo that makes you angry/sad
Day 09 → A photo you took
Day 10 → A photo of you taken over ten years ago
Day 11 → A photo of you taken recently
Day 12 → Whatever tickles your fancy
Day 13 → A fictional book
Day 14 → A non-fictional book
Day 15 → A fanfic
Day 16 → A song that makes you cry (or nearly)
Day 17 → An art piece (painting, drawing, sculpture, etc.)
Day 18 → Whatever tickles your fancy
Day 19 → A talent of yours
Day 20 → A hobby of yours
Day 21 → A recipe
Day 22 → A website
Day 23 → A YouTube video
Day 24 → Whatever tickles your fancy
Day 25 → Your day, in great detail
Day 26 → Your week, in great detail
Day 27 → This month, in great detail
Day 28 → This year, in great detail
Day 29 → Hopes, dreams and plans for the next 365 days
Day 30 → Whatever tickles your fancy
When I was in eighth grade I went through an embarrassing Wiccan phase. This was at least partially because I'd seen
The Craft
and thought that Fairuza Balk was really cool. It was also because I wanted to piss off my dad. I spent a lot of time haunting Halifax's single New Age store (where everything smells like patchouli and a single crystal costs twenty million dollars), reading Tarot cards (badly), and attempting to cast spells in my bedroom using a stick and some garlic powder.* For about a year I basically embodied every teenage Wiccan cliche in the book (Wicca is the world's OLDEST RELIGION! Christians are all oppressing me by being Christian! My devotion to the Goddess is best expressed by reading epic fantasy novels and drawing pentagrams at the top of all of my homework assignments! Etc, etc) and whined and pretended to hex people and was basically a blight on the face of the earth.**
Then, the summer after eighth grade, I read this book.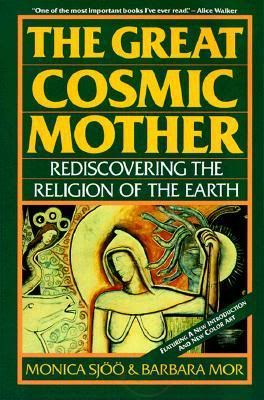 Whether or not
The Great Cosmic Mother
can actually be classed as nonfiction is maybe a little iffy- you have to take a helluva lot of leaps of faith when you read it- but at the time at which I discovered it it was the most crazy mind-bending thing I'd ever read that wasn't a novel. At that point I was just starting to identify, pretty tentatively, as a feminist; this book tipped me over the edge and into full-on radical territory. It also helped me develop a much deeper, richer understanding of the Divine than the one I'd had before, not just because it was so adamant about God being a woman*** but because it addressed the ways in which "woman" as a
thing
didn't have to be limited to what I'd been taught to see as "feminine." (Ex: this book was the first I'd ever read that said anything about the Sacred Androgyne or the third gender, which, since I was also starting to question my own gender and gender as a social construct, was a Big Fucking Deal.) The type of "woman-centric" religions I'd been exposed to up to that point were all about duality- the God is the sky, the Goddess is the earth, the God is active, the Goddess is passive, the God is masculine, the Goddess is feminine, blah blah blah sacred polarities balancing energies blabitty blabitty blah****- and this book helped me get beyond that without having to give up on the whole thing altogether. And it was just fucking
cool
.
My Wiccan phase pretty much ended that year, a little while after reading this book, and I've forgotten most of the other things that ~blew my mind at that time. But this one is still important to me.
* I figured if you can substitute powdered herbs for fresh ones in cooking you can do it during rituals as well. Turns out it doesn't actually work like that!
** Not all Wiccans are like this, obviously. Not even all teenage Wiccans are like this. But I was a
dumbass
teenage Wiccan.
*** Which, for whatever reason(s), is still an important part of my own piecemeal wishy-washy spirituality today. Probably it has to do with my relationship with my mother, or something.
**** Please note: if the idea of two very separate, distinctly gendered deities is a big part of your personal faith, that is fine. But man, it is so very, very Not My Thing. Also, my understanding of Wicca was a religion at that point was formed mostly by the websites I found on the subject (all terrible!) and the few books I could hunt down in the public library (even worse!), plus the
Sweep
series by Cate Tiernan (oh my God what WAS that bullshit!). So there was probably a lot about it that just did not properly register with me. Hear you me, kids: if you want to convert to a new religion, READ THE RIGHT BOOKS.